Baby Bottle Campaign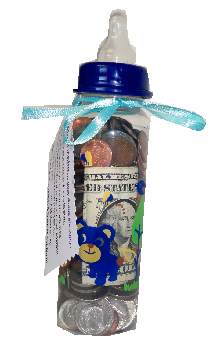 The 2020 Baby Bottle Campaign is a blessing for Abel Pregnancy Resource Center throughout the year. This year this has never been more important to realize as we've all had to put plans on hold, including the donation of funds through this wonderful campaign. Please hang onto your change and be ready to fill those bottles as soon as our communities are slowly phased back into full functionality. We will continue collecting baby bottles throughout the year to make sure the opportunity to participate isn't missed by any of our amazing supporters.
It's easy...here's how.
Let us know how many baby bottles your church, club or business would like to receive and we will prepare the bottles for you.
We'll deliver the bottles to you or you can pick them up at the center.
Set a start and end date for your BBB Campaign.
Distribute the bottles to your members asking them to fill their baby bottle with loose change, dollar bills or even a check. Feel free to be creative – one person filled their bottle with only one dollar coins which totaled over $100. Others, every time they got a dollar bill with a "B" on it, put it in their bottle. They called these bills "Baby Bucks."
Encourage your members to use their baby bottle as a reminder to pray for the Abel PRC.
After about 6-8 weeks, collect the bottles. You can either take the money to the bank and write us a check or return the filled bottles to us.
By participating in Baby Bottle Blessings, you will join with nearly 60 churches and other groups to make it possible for the Abel PRC to continue to reach out to women facing an unintended pregnancy, allowing us to care for her and her unborn child.
(to get a picture of the caring work done through pregnancy center ministry)