Baby Bottle Campaign 2019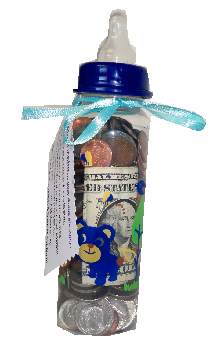 Each year, the Abel Pregnancy Resource Center kicks off its Baby Bottle Blessings Campaign on Sanctity of Human Life Sunday. This year SOHLS falls on January 20th. Some groups will request baby bottles in January and others will run their Baby Bottle Blessings Campaign between Mother's and Father's Day or at some other time of the year. We would love for your church, organization, business, club, or family to participate.
It's easy...here's how.
Let us know how many baby bottles your church, club or business would like to receive and we will prepare the bottles for you.
We'll deliver the bottles to you or you can pick them up at the center.
Set a start and end date for your BBB Campaign.
Distribute the bottles to your members asking them to fill their baby bottle with loose change, dollar bills or even a check. Feel free to be creative – one person filled their bottle with only one dollar coins which totaled over $100. Others, every time they got a dollar bill with a "B" on it, put it in their bottle. They called these bills "Baby Bucks."
Encourage your members to use their baby bottle as a reminder to pray for the Abel PRC.
After about 6-8 weeks, collect the bottles. You can either take the money to the bank and write us a check or return the filled bottles to us.
By participating in Baby Bottle Blessings, you will join with nearly 60 churches and other groups to make it possible for the Abel PRC to continue to reach out to women facing an unintended pregnancy, allowing us to care for her and her unborn child.
(to get a picture of the caring work done through pregnancy center ministry)